Singapore, March 27, 2022, ZEXPRWIRE, Recently, Richverse successfully received an investment of $3.75 million from AKG Venture, Bitcoke, Hotbit DAO, R8 Capital, 7'o clock Labs and other institutions. Richverse's first product, GENESIS, has received green recognition and grant support from Metis DAO.
The main lines of business of the project are SocialFi, GameFi and Blockchain Game NFTs. With the advantages of AR technology and the product development capabilities of the world's best team, they have launched popular products on the Richverse social network.
Richvers 1.0 Genesis is a GameFi project that combines the four elements of simulation management, development, PvE and PvP games and social interaction, ushering in the era of GameFi 2.0. The way players obtain tokens has changed from P2E to PvP with competitive gameplay. In Genesis, players can control different levels of Constellation Immigrants to make new friends while acquiring assets from different game scenes. Based on the Constellation Immigrant characters, Genesis has created NFT assets such as space debris, virtual buildings and character equipment, to pave the way for building a Richverse Web 3.0 social network in the future.
Richvers 2.0 Find me is a SocialFi product based on AR, 3D modeling, facial recognition algorithm and GPS technology. The Richverse community will have the opportunity to interact, connect and rely on the Find me augmented reality experience. This AR social space will bring an expanded view of reality to the Richverse using accessible smart positioning. The journey begins with the creation of a customizable 3D NFT avatar. Users will begin their journey by exploring user-generated content, connecting with people with related interests, and performing NFT transactions. Geolocation will play an important role in helping to discover relevant content.

Currently, the Richverse community continues to grow, with 18.7,000 Twitter followers and 17.3,000 Telegram members, mostly from North America, all brought together by a mature and professional product R&D team with more of 200,000 traditional Oculus and Steam gamers. .
About Richverse
Richverse is the world's first XR-driven SocialFi Web 3.0 project, initiated by technical experts from Harvard and MIT. It aims to build a Web 3.0 social network through XR and community empowerment. It integrates GameFi, NFT aggregation transactions and SocialFi.
The project team has professional training in the design and development of technologies such as XR and facial recognition, and has experience working in the world's top factories such as Oracle, Alibaba Damo Academy, etc. The advantage of this project lies in the application and construction of XR technology in a virtual environment.
AMA Schedules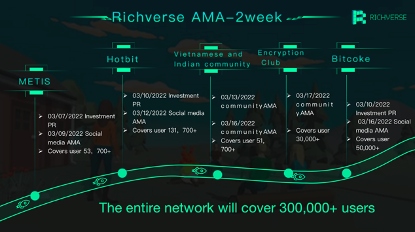 Tokenomics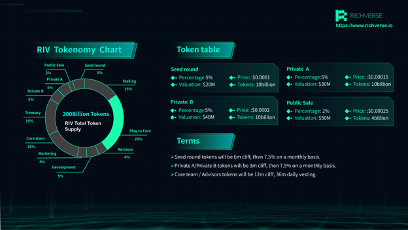 Roadmap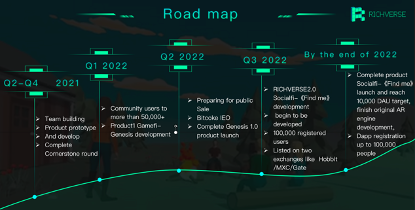 Media Contacts
Name: Caleb
E-mail: [email protected]
company: RICHVERSE PTE LTD
Country: Singapore
The post office Richverse Web 3.0 Project Secured $3.75M Investment and Metis DAO Grant appeared first on Zex PR wire.